Angelica Clark, PA-C, Our First Multilingual Provider
February 4, 2015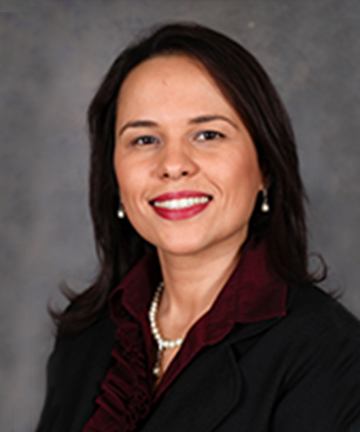 We are excited to announce that Angelica Clark, PA-C, has completed her training and is our first Spanish speaking physician's assistant who is now actively seeing Spanish speaking patients. She is trilingual: she speaks Portuguese, Spanish, and English.
Read Dr. Hotze's Interview with Angelica Clark, PA-C
Dr. Hotze:   Hello, I'm Dr. Steve Hotze and I'm here to bring you some really great news. Angelica Clark has joined our team and she's going to serve as a physician assistant and work with our guests, and specifically our Spanish-speaking guests. I wanted you to get a chance to know her and learn something about her and her interests, and how she became interested in natural approaches to health. Angelica, tell us about your background. Where did you grow up?
Angelica:   I grew up in Brazil. I was born and raised in Brazil, and since I was a little girl, God put in my heart about becoming a missionary in America, so every time we had missionary things, talking at church I thought about coming to America. Somehow God made his will come through and I came to America to work as a nutritionist after I graduated as a nutritionist in Brazil, and worked in New York City. As I was working as a nutritionist, I felt a need to reach more people because my doctor didn't say so, the nutritionist said so – they wouldn't listen to me, so I decided to go ahead and go to become a PA. So then that's how I got started into medicine. I went to Virginia and went to college there.
Dr. Hotze:  You got your physician's assistant degree …
Angelica:  Yes, in Virginia.
Dr. Hotze:  In Virginia.
Angelica:  Yes from the Carilion (Clinic) at Jefferson College of Health Sciences.
Dr. Hotze:  That's tremendous. Congratulations.
Angelica:  Thank you.
Dr. Hotze:  When did you receive that degree?
Angelica:  In 2008.
Dr. Hotze:  Okay, and how did you end up down here in Texas?
Angelica:  My husband was born in Dallas. He wanted to come home. He grew up in New York and was tired of the snow. We went to Virginia so I could go to college there, so once I graduated he's like "I want to go home," so we came home.
Dr. Hotze:  So when did you come back to Texas?
Angelica:  I came to Texas right after I graduated, in 2008.
Dr. Hotze:  That's great, and you've been a practicing physician's assistant here.
Angelica:  Yes.
Dr. Hotze:  Now tell me what got you interested in natural approaches to health?
Angelica:  It's an interesting story, and very personal. But, my first approach was, since I was a nutritionist, I struggled a lot when I moved to the United States and actually I gained like 40 pounds in the first year, were sick, was having palpitations, feeling tired. I had gotten like several shots in Brazil, and I believed that I was just detoxing. It was a lot of factors and nobody would listen to me. And I went to the doctor, I told her I was sick and I was like "How can I be a nutritionist and have trouble with my weight?" That's how I got started, and I started to learn more and more about functional medicine.
Dr. Hotze:  How did you learn about bioidentical hormones?
Angelica:  I have been hearing about bioidentical hormones here and there in different conferences. I never felt comfortable because you're really not taught well about hormones in PA school or medicine. So mostly from people's testimonies and then I got started. My previous supervising physician started his certification at the beginning of last year, and I just followed through with him. We started seeing patients. And I saw their lives change and I got more into it. Then I personally was diagnosed with hypothyroidism, which was hidden forever. I've always had to sleep with two socks and ten blankets and always been cold and always tired. It's amazing how finding out that I had a hormone deficiency in my cell level, how that has changed my life.
Dr. Hotze:  Well that's tremendous. Now you started with us in your training program here when?
Angelica:  Last year in October, 2014.
Dr. Hotze:  In October of 2014, so it's been almost four months that we've put you through the Hotze Health & Wellness Center training program where you've trained with our other physician assistants, our nurse practitioner, as well as our two physicians, Dr. Ellsworth and Dr. Sheridan.
Angelica:  That's correct, I've been everybody in the medical team and we have had an intense training. and I'm pretty excited to be here. I think we have a potential to serve a lot of our guests and meet their needs, and I'm ready.
Dr. Hotze:  That's great. Now basically right now we're throwing you in. It's time for you to put that training to use and you'll be start seeing our guests primarily. You'll be taking care of them. Now what languages do you speak?
Angelica:  I speak English, Portuguese, and Spanish.
Dr. Hotze:  Well that's great. Although you'll be working with all our guests, we're going to hopefully as we roll out our opportunities to serve our Hispanic clientele, we're going to focus you in that direction, because we think that's very helpful to be able to explain things in your native language to our guests. How do you think you'll be able to help our Hispanic speaking guests?
Angelica:  I would like to be able to bridge the gap in the language barrier. A lot of times there are certain things that are cultural that I would be able to find more common ground and meet them at their level so we can work together the path of wellness.
Dr. Hotze:  Well we're excited to have you here and I know all of you will be excited when you meet her. Angelica is a lovely young lady and she's really a wonderful addition and asset to our staff, and I'm looking forward to having you have an opportunity to meet Angelica in person, but I wanted to introduce you to her on this video so you get to know her now. So thanks so much for joining us today and thank you, Angelica.
Angelica:  Thank you. I appreciate it. Thank you.
Call 877-698-8698 to make your appointment with Angelica Clark, PA-C today!