The Best Aesthetics Treatments for Rosacea
May 17, 2023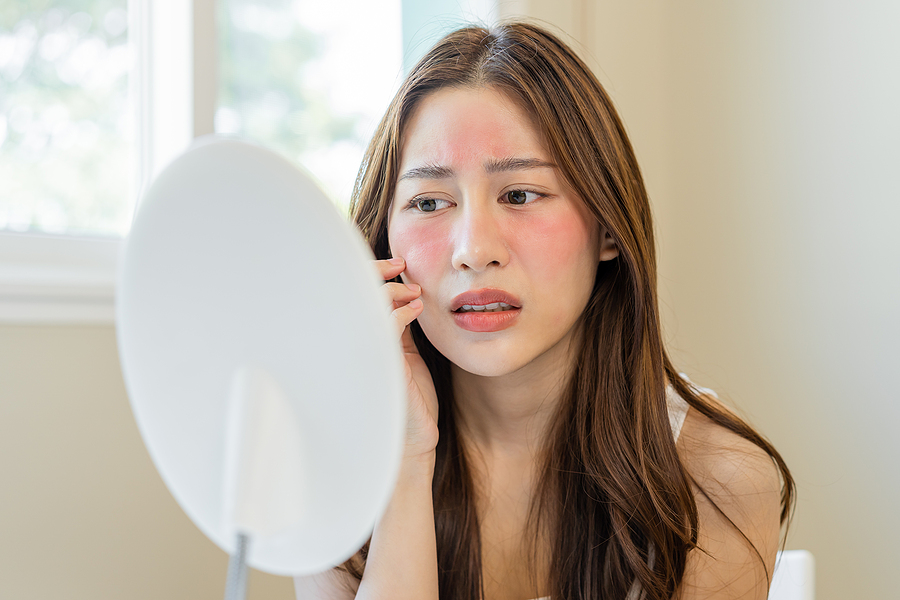 Rosacea is a common skin disease that affects 16 million Americans.
Do you struggle with red, blotchy skin? Have you been told you have rosacea? Does it affect your self-esteem? Does it cause you to withdraw from social activities? Rosacea can negatively affect your quality of life. If you have been searching for an answer, we have a natural solution to help you! We want to share with you some of the best aesthetics treatments for rosacea.
First, let's start with the basics.
What is rosacea?
Rosacea is a common inflammatory skin condition that causes red, blotchy skin, even raised areas of redness and texture. It can be caused by chronic inflammation and abnormal blood vessel response to stimuli. It often begins with a tendency to blush or flush more easily than other people. The redness can slowly spread beyond the nose and cheeks to the forehead and chin. Rosacea can even affect your eyes, ears, chest and back. However it is not contagious.
Symptoms of Rosacea
Flushing
Visible blood vessels
Swelling
Persistent redness
Rough texture/scaly skin
Burning/sensitivity
Acne-like breakouts with oiliness
Increased presence of Demodex mites
4 Subtypes of Rosacea
Erythematotelangiectatic rosacea: redness, flushing, visible blood vessels
Papulopustular rosacea: redness, swelling, and acne-like breakouts
Phymatous rosacea: skin thickens and has a bumpy texture
Ocular rosacea: eyes red and irritated, eyelids can be swollen, and the person may have what looks like a stye
Common Triggers of Rosacea:
Heat/sun exposure
Emotional stress
Wind
Diet/spicy foods/alcohol
Exercise
Skincare ingredients
Medication
Who can typically have rosacea?
Between 30 and 60 years of age
Fair-skinned, and often have blonde hair and blue eyes
From Celtic or Scandinavian ancestry
Those with a family history of rosacea or severe acne
Likely to have had lots of acne – or acne cysts and/or nodules
Women, especially during menopause
Women are a bit more likely than men to get rosacea. Children can even get rosacea. 
Causes of Rosacea
Rosacea runs in families. Many people who get rosacea have family members who have rosacea. It is possible that people inherit genes for rosacea.
The immune system may play a role. Scientists found that most people with acne-like rosacea react to a bacterium (singular for bacteria) called bacillus oleronius. This reaction causes their immune system to overreact.
A bug that causes infections in the intestines may play a role. This bug, H pylori, is common in people who have rosacea.
A mite that lives on everyone's skin, demodex, may play a role. This mite likes to live on the nose and cheeks, and this is where rosacea often appears. Many studies found that people with rosacea have large numbers of this mite on their skin.
A protein that normally protects the skin from infection, cathelicidin, may cause the redness and swelling. How the body processes this protein may determine whether a person gets rosacea.
Natural Aesthetics Treatments for Rosacea
At Hotze Beauty, we offer the safest and most effective aesthetic treatments in our industry today. Our favorite treatments for rosacea are Sciton Broadband Light Therapy (BBL), SkinPen and a custom chemical peel series. With these treatments, you will experience the best of both worlds, healing, AND anti-aging!
BBL is our BEST treatment for rosacea or acne rosacea. BBL treats rosacea and visible broken vessels by target heating the areas of concern, resulting in the constriction of excessive blood flow. This leads to the reduction in redness/visible vessels and a brighter and smoother texture.
Guests will notice a change in their complexion after 1 treatment, but with no cure for rosacea, this BroadBand Light treatment is best done in a series of 3 to 5 treatments with the expectation of maintenance treatments along the road.
SkinPen microneedling may be beneficial in treating rosacea because it triggers your body's natural healing response and may result in better circulation, therefore reducing redness. It may also help with reducing the amount of bacteria on the skin.
A chemical peel may be beneficial as well to control the amount of bacteria present on the skin and to help with inflammation.
Rosacea-Friendly Skin Care Products
We offer our guests who suffer from rosacea skin care products with ingredients that will not only protect their skin from the sun, but also protect their skin from the damage of harsh temperatures and environmental factors.
We carry several wonderful Colorescience Sunforgettable sunscreen products here. These sunscreens not only protect from UV light, they also protect against BLUE HEV light, (also known as high-energy visible  light from the sun, laptops, monitors, smartphones, tablets, TV, fluorescent and CFL bulbs) and infrared radiation. It should be reapplied every 2 hours to ensure maximum protection.
We also carry Colorescience All Calm Clinical Redness Corrector SPF 50.
We also use Skin Nutrition Epidermal Repair Serum for rosacea and Physicians Preference Rosacea Cream.
Can you successfully manage Rosacea?
Yes, you can. While there is no known cure for rosacea, managing this skin condition is totally possible with your dedication both at home and in the treatment room. An ingredient-focused skincare regimen and targeted treatment plan will put you on a path of healthy, healed skin. We recommend having an aesthetics consultation to determine which treatments are appropriate for you. In your consultation we will discuss your history, habits, triggers, and set expectations to cultivate the optimal treatment plan to reach your goal.
Schedule Your Aesthetics Consultation Today!
If you would like help treating your rosacea, call our Hotze Beauty Aesthetics Department at (281) 698-8770. At Hotze Beauty, we use Visia Complexion Analysis, a top-of-the-line facial imaging system that will give you a complete 3D visual of your skin.
Resource
American Academy of Dermatology Association