Daisy's Yeast-Free Brownies
August 4, 2011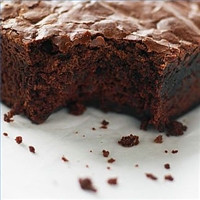 Daisy's Yeast-Free Brownies
¾ cups unflavored coconut oil, in solid form, not liquid
1 1/8 cups Sweet-n-Natural
6 oz. unsweetened chocolate
3 eggs, room temperature
2 TBS hot water*
1 1/2 tsp. instant espresso powder or instant coffee*
2 tsp. vanilla
1 cup oat flour
1 tsp. xanthan gum
2 tsp. cinnamon
½ tsp. baking powder
¼ tsp. salt
½ – ¾ cup pumpkin seeds (pepitas), toasted and coarsely chopped (optional)
Preheat oven to 350 degrees.
In a medium bowl, cream the coconut oil until no lumps remain.
Add Sweet-n-Natural and continue creaming until no lumps remain.
Place chocolate in a microwave safe bowl and microwave for 1 minute intervals at 50% power until chocolate melts.
Be sure to stir after each minute—you do not want your chocolate to burn.
Add the melted chocolate to the creamed coconut oil and mix well.
Add eggs one at time, mixing well after each addition.
Dissolve the espresso powder in the hot water and add to the egg mixture along with the vanilla.
Mix well until incorporated.
Set aside.
In a small bowl using a whisk, combine the oat flour, xanthan gum, cinnamon, baking powder and salt.
Add the dry ingredients to the egg mixture in three parts, mixing well after each addition.
Batter will be thick.
Fold in pumpkin seeds.
Line an 8×8 or 9×9 baking pan with parchment paper or foil so you have a 2 inch overhang on either side of the pan to ensure easy removal.
Bake the brownies for 20-25 minutes.
The edges will be firm, but the middle will look and feel undercooked.
You need this to ensure a fudgy texture.
Over-baking results in dryer/crumbly brownies.
Let brownies cool completely before cutting.
Small puddles of oil are ok—they will be reabsorbed as the brownies cool.
*Note: you may substitute the water and instant espresso/coffee with 2 tbs. of strong brewed coffee.