10 Secrets for Healthy Aging from the Inside Out
August 10, 2015
Do you ever wish you had a way to not only look younger, but to feel better, too? Would you like to learn 10 secrets for healthy aging from the inside out? Would you like to get firmer, younger-looking skin? Do you want to learn how to lose that extra weight naturally? Do you just want to feel like yourself again?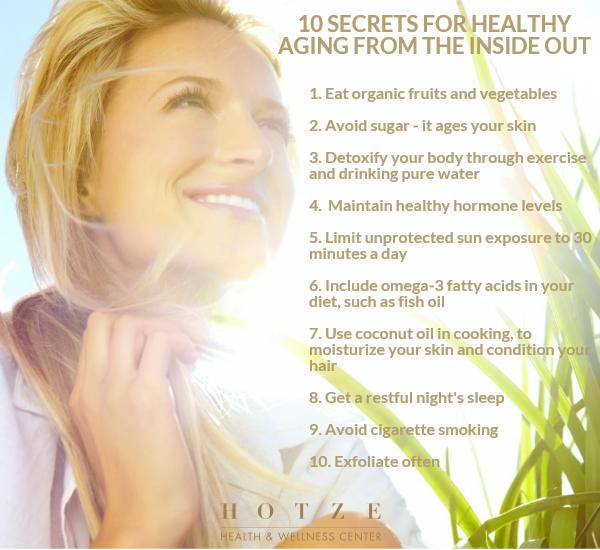 10 Secrets for Healthy Aging from the Inside Out
Here are a few things you can start doing today that will help you look and feel better:
1. Eat organic fruits and vegetables
2. Avoid sugar – it ages your skin
3. Detoxify your body through exercise and drinking pure water
4. Maintain healthy hormone levels
5. Limit unprotected sun exposure to 30 minutes a day
6. Include omega-3 fatty acids in your diet, such as fish oil
7. Use coconut oil in cooking, to moisturize your skin and condition your hair
8. Get a restful night's sleep
9. Avoid cigarette smoking
10. Exfoliate often
Want to Learn More?
Join Dr. Hotze and other natural health experts for a week of presentations on how you can age your best. In this online event, you will learn about:
-healthy aging from the inside out
-skin rejuvenation to reverse aging
-natural ways to help you shed those extra pounds
-an ideal eating plan for detoxing to refresh your body
-vitamins and nutrients for looking and feeling your best
-and much more!
Take our symptom checker health quiz to find out if you have symptoms of hormonal imbalance.