Natural Treatment for Chron's Disease
April 18, 2019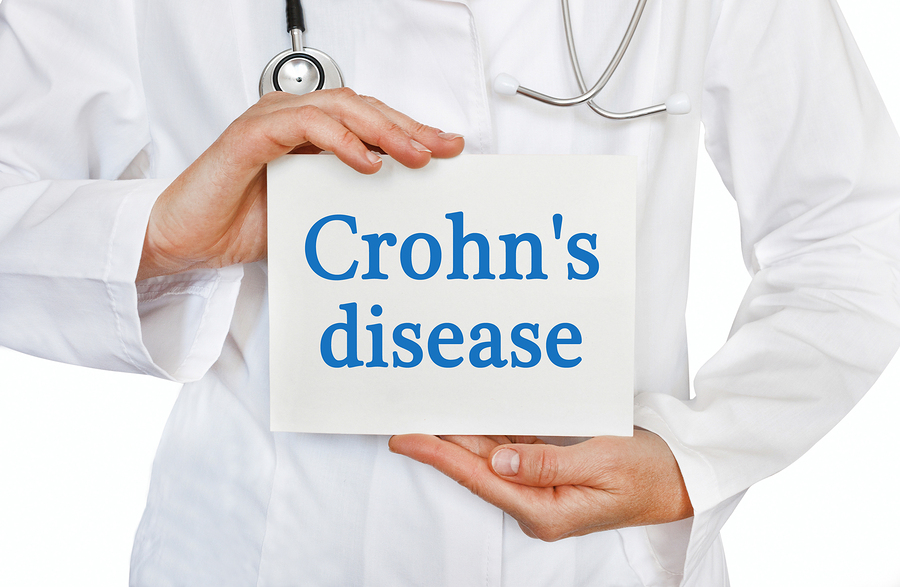 Crohn's disease may affect as many as 780,000 Americans.
Has your life been affected by Crohn's disease? Are you in constant gastrointestinal pain? You may have tried everything from prescription medications to surgery, but you are still suffering.  Read on to find out something you can do naturally to help alleviate your symptoms.
What is Crohn's Disease?
Crohn's disease is a chronic inflammatory condition of the gastrointestinal tract. It was named after Dr. Burrill B. Crohn, who first described the disease in 1932. Crohn's disease belongs to a group of conditions known as inflammatory bowel diseases. It most commonly affects the end of the small bowel (the ileum) and the beginning of the colon, but it may affect any part of the gastrointestinal (GI) tract.
Symptoms of Crohn's
Persistent diarrhea
Rectal bleeding
Urgent need to move bowels
Abdominal cramps and pain
Sensation of incomplete evacuation
Constipation (can lead to bowel obstruction)
Nausea
Fever
Loss of appetite
Weight loss
Fatigue
Night sweats
Loss of normal menstrual cycle
Anemia
Eye redness or pain
Joint pain or soreness
Skin changes
What causes Crohn's?
The cause of Crohn's disease is not fully understood by conventional medicine. Some possible causes may be:
Autoimmune reaction
Hereditary
Genetics
Environmental factors
Smoking
High-fat diet
Diet and stress aggravate Crohn's. Certain foods can trigger or worsen symptoms. It is best to avoid sugary foods, dairy, high-fat foods, non-absorbable sugars, insoluble fiber, alcohol, caffeinated drinks and spicy foods.
Conventional Solutions
Conventional doctors treat Crohn's disease with prescription drugs to help control the inflammation, bowel rest and surgery. As you know, prescription drugs come with many unwanted side effects and surgery comes with risks. Bowel rest may include drinking only certain liquids or fasting.
How can you treat Crohn's naturally?
Yeast overgrowth can cause inflammation in the GI tract. A number of gut bacteria and fungi have been identified as playing a role in inflammatory bowel diseases such as Crohn's. Research demonstrates that dietary yeast can affect the activity of Crohn's disease. When patients excluded yeast from their diet, their Crohn's symptoms were lower than when they were eating yeast. (1) We have found that adopting a yeast-free eating program can be really beneficial for people with Crohn's.
Vitamin D Deficiency and Chron's
Research studies provide strong links between vitamin D deficiency and the genetics of Crohn disease. Findings provide a strong molecular basis for the contribution of vitamin D deficiency to the development of Crohn's Disease. (2) Research also shows that low sunlight exposure, which can contribute to a vitamin D deficiency, is associated with an increased incidence of Crohn's disease. (3)
Kara's Story
Kara was very sick with Crohn's and she saw at least 5 doctors for it.  She had 3 surgeries and was prescribed antibiotics and heavy pain medication, however, none of this solved the problem. Today, Kara feels like a new person! Watch to find out how Kara got relief from her Crohn's symptoms and got her life back!
We Can Help
We believe that you deserve to have a doctor and a team of professionals to coach you onto a path of health and wellness, naturally, so that you can enjoy a better quality of life without the use of pharmaceutical drugs, and have a life-changing health transformation.
At the Hotze Health & Wellness Center, we believe in solving the underlying cause of your symptoms, naturally. If you suffer from Crohn's and have symptoms of yeast overgrowth, then doing a yeast-free eating program can give you relief. Call us today at 281-698-8698 for a complimentary wellness consultation. It's time to get your life back!
Sources:
crohnscolitisfoundation.org
niddk.nih.gov
Research Studies
1. The Effect of Dietary Yeast on the Activity of Stable Chronic Crohn's Disease
2. Direct and Indirect Induction by 1,25-Dihydroxyvitamin D3 of the NOD2/CARD15-Defensin β2 Innate Immune Pathway Defective in Crohn Disease*
3. Low Exposure to Sunlight is a Risk Factor for Crohn's Disease