How to Get Rid of Allergies Naturally
May 29, 2017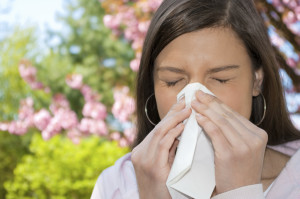 Are allergies making you feel miserable?
Allergies can cause so many annoying symptoms, but are they also making you sick?  Are you not able to go outside without an inhaler? Do you get sinus infections several times a year?  Do you spend a good portion of your time not feeling well and miss a lot of work?  Allergy symptoms can range from mild to severe and can interfere with your relationships and everyday activities.   It's time for you to learn how to get rid of allergies naturally so that you can enjoy life again and feel your best!
Common Allergy Symptoms
Allergy symptoms include more than just sneezing or watery, itchy eyes.  There are several common allergy symptoms you need to be aware of:
Fatigue                                                       Frequent headaches
Sneezing                                                    Stuffy runny nose
Itchy eyes                                                   Recurrent cough
Postnasal drainage                                Itching of the nose
Frequent "colds"                                     Recurrent ear infections
Recurrent cough or bronchitis          Chronic sinus infections
Dizziness                                                     Dark circles under the eyes
Itching, watering, red eyes                  Swelling of the eyes
Tightness in the chest                           Sneezing
Sinus infections                                       Eczema, skin rashes, itching or hives
Asthma
Can you relate to Heidi's story?
I was being treated for asthma and allergies by the head of internal medicine for a major hospital in the Houston medical center.  I was receiving weekly injections, prescribed Singulair nightly for asthma, Claritin daily, and 2 puffs 2 times per day of Serevent and Azmacort for asthma.  I was still miserable and suffering from my symptoms.  I didn't know it wasn't normal not to have sinus infections at least every 8 weeks.  I took steroids and antibiotics so often that my asthma/allergy doctor could no longer prescribe them to me. Click here to watch Heidi share her story.
Antihistamines and Decongestants Don't Get Rid of Allergies
Unfortunately, many people with allergies accept these symptoms as a way of life and depend upon on antihistamines and decongestants to try and manage their symptoms. These drugs only attempt to mask the allergy symptoms and cause side effects such as fatigue, drowsiness, nausea, headaches, dizziness, dry mouth, loss of appetite, stomach upset, blurred vision and skin rashes.
How to Get Rid of Allergies Naturally
You can greatly reduce and even eliminate your allergy and asthma symptoms naturally by resolving the underlying cause which involves strengthening your immune system.  Sublingual allergy drops, or drops taken under the tongue, are a safe, effective and convenient allergy desensitization treatment. By building up good blocking antibodies to the allergens to which you react, you can desensitize your immune system to those substances and actually block the allergy reaction. This allergy treatment is similar to an immunization, and desensitizes you to the allergens.  Instead of driving to the doctor's office for weekly allergy shots, you can simply put a few drops under your tongue in the comfort of your home.
A happy ending to Heidi's Story
Allergy drops have virtually eliminated my allergy and asthma symptoms, and I no longer need all of the other medicine I was taking for them.  I can mow the yard now without so much as sneezing!  I have an emergency inhaler for asthma, but rarely use it.  After one week, my boss came in my office, and closed the door to talk.  He told me how wonderful I looked now that he could look at me and see a "'person" was alive again behind my green eyes.  I honestly can't remember the last time I had a cold or sinus infection or even the flu.
Dr. Hotze reveals how to conquer your allergies naturally:
Would you like to conquer your allergies?
If you're ready to conquer your allergies and regain your energy so that you can feel your best, contact us today!
If you're sniffling your way through each day, it might be time for a change. Click on the button below to get our Allergy Prevention Guide today, and contact a wellness consultant at 281-698-8698 to find out how you can fix your allergies for good.
Click Here to Get Your Guide
Related Content
5 Foods to Help Minimize Seasonal Allergy Symptoms
Stressed Out Tired? You Might Have Adrenal Fatigue
Amazing Benefits of Vitamin D