Protect Your Heart With Magnesium
February 10, 2022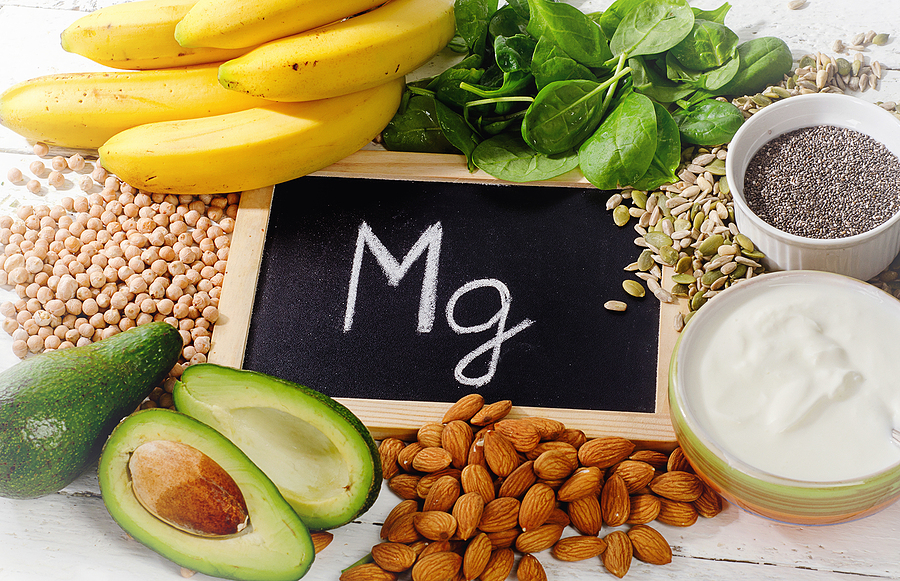 Heart disease is the number one killer of women and men. When you think about preventing heart disease, cholesterol is probably the first thing that comes to mind. However, there is an important mineral essential to heart health that is often overlooked: magnesium.
What is magnesium?
Magnesium is a mineral that is needed for more than 300 biochemical reactions in the body. It helps to maintain normal nerve and muscle function, supports a healthy immune system, keeps the heartbeat steady, and helps bones remain strong. It also helps regulate blood glucose levels and aid in the production of energy and protein.
How does magnesium protect your heart?
Your heart can't function properly without magnesium. Magnesium prevents muscle spasms of the heart blood vessels, which can lead to a high blood pressure and a heart attack. Magnesium prevents calcium buildup in cholesterol plaque in arteries, which leads to clogged arteries.
Research on How Optimal Magnesium Levels Affect Your Heart
Magnesium levels are inversely associated with cardiovascular disease risk.
Research shows that magnesium was associated with a 30% lower risk of cardiovascular disease and 22% lower risk of ischemic heart disease.(1)
Optimum tissue levels of magnesium and potassium are essential to the structure and function of the myocardium (muscular tissue of the heart).
Subjects dying suddenly with ischemic heart disease had significantly lower levels of myocardial tissue magnesium and potassium than the control group. (2)
Low magnesium was associated with higher prevalence of hypertension, type 2 diabetes, and coronary artery calcification.
The Genetics of Atherosclerotic Disease (GEA) Study showed that low magnesium was associated with higher prevalence of hypertension (high blood pressure), type 2 diabetes, and coronary artery calcification, which is a marker of atherosclerosis and a predictor of cardiovascular morbidity and mortality. Subjects with the highest magnesium had 48 % lower odds of hypertension, 69 % lower odds of type 2 diabetes, and 42 % lower odds of coronary artery calcification score compared to those with the lowest magnesium. The analyses also showed that an increment in magnesium was independently associated with 16 % lower coronary artery calcification. (3)
Magnesium intake is significantly and inversely associated with serum C-reactive protein levels.
C-reactive protein is a predictor of heart disease because it is an indicator of inflammation, and it is the inflammation and injury of the blood vessels that cause heart disease. (6) A meta-analysis review indicates that magnesium intake is significantly and inversely associated with serum C-reactive protein levels. The potential beneficial effect of magnesium intake on chronic diseases may be, in part, explained by inhibiting inflammation. (4)
Magnesium helps lower blood pressure.
It's important to keep your blood pressure in check since it is a risk factor for heart disease. Magnesium has been used successfully to treat high blood pressure for over half a century by doctors. (5)
Causes of of Magnesium Deficiency
Most people are deficient in magnesium because foods such as caffeine and sugar deplete the body's magnesium levels. Not eating enough green vegetables can also contribute to a deficiency since green vegetables contain magnesium. Chemicals like fluoride and chlorine in the water supply bind to magnesium so your body can't use it. Medications such as antibiotics and diuretics deplete magnesium by impairing absorption or increasing excretion by the kidneys.
Symptoms of Magnesium Deficiency
Weak muscles
Muscle spasms
Muscle cramps
Muscle twitches
Irregular or rapid heartbeat
Irritability
Anxiety
High blood pressure
Asthma
Fatigue
Vertigo
Back aches
Depression
Headache
Loss of appetite
Sleep disorders
Nausea
Migraines
Seizures
Constipation
Osteoporosis
Insulin resistance
How to Test for a Magnesium Deficiency
It is possible to test for a magnesium deficiency by obtaining the red blood cell magnesium level. It may be listed by the lab as RBC Mg or Mg RBC. A level of 6 or more is optimal.
How to Optimize Your Magnesium Levels
We must get magnesium through food, supplements or topical applications.
Foods Rich in Magnesium
Foods rich in magnesium are spinach, broccoli, Brussels sprouts, avocados, romaine lettuce, kale, Swiss chard, turnip greens, collard greens, bok choy, salmon, mackerel, squash, papaya, raspberries, tomato, strawberries, and watermelon. Seeds and nuts have magnesium, with pumpkin, sesame and sunflower seeds having the highest amount. You can also get magnesium from herbs and spices such as parsley, coriander, chives, cumin seed, mustard seeds, fennel, and basil.
Magnesium Supplements
While each form of magnesium serves its own purpose, after much research, the two most superior forms of magnesium are magnesium citrate and magnesium glycinate, and each for their own reason.
• Magnesium citrate is one of the forms with the highest bioavailability, at 90%, which means that it is easily assimilated by the digestive system and used for maximum health benefits. In addition to offering heart health benefits and aiding in optimal nerve and muscle function, magnesium citrate is commonly used to help induce a bowel movement, encourage bowel regularity and has been studied for its ability to reduce the chances of developing kidney stones. Magnesium citrate is available in tablet form, however, is also offered in a liquid form and is great for children, too.
• Magnesium glycinate offers the same heart, nerve and muscle health benefits of magnesium citrate, however, for those who are sensitive to magnesium citrate and its bowel regularity properties, magnesium glycinate is a better solution.
• Transdermal magnesium is a topical magnesium gel that is used externally, versus being ingested orally. Rubbed directly on the affected area, transdermal magnesium can offer almost immediate relief for many symptoms, such as dry skin, muscle aches and cramps, migraine headaches, tension and stress.
Don't wait – work on increasing your magnesium levels today so you can help ensure have a healthy heart.
We Can Help
Do you struggle with symptoms of hormone decline such as weight gain, brain fog, difficulty sleeping, depressed moods, joint and muscle pain and more? Take our Symptom Checker to find out what could be going on.  Call our Wellness Consultants for a complimentary wellness consultation at 281-698-8698. It will be our privilege to serve you!
Related Content
10 Tips for Heart Health
Surprising Cause of Heart Disease
How Obesity Leads to Heart Disease
Source
Dr. Carolyn Dean, The Magnesium Miracle
Research
1. Circulating and Dietary Magnesium and Risk of Cardiovascular Disease: A Systematic Review and Meta-Analysis of Prospective Studies
2. Myocardial Tissue Concentrations of Magnesium and Potassium in Men Dying Suddenly from Ischemic Heart Disease
3. Serum Magnesium is Inversely Associated with Coronary Artery Calcification in the Genetics of Atherosclerotic Disease (GEA) Study
4. Dietary Magnesium Intake is Inversely Associated with Serum C-reactive Protein Levels: Meta-Analysis and Systematic Review
5. Nutritional Epidemiological Study on Mineral Intake and Mortality from Cardiovascular Disease
6. Uric Acid-Induced C-reactive Protein Expression: Implication on Cell Proliferation and Nitric Oxide Production of Human Vascular Cells