Acne Knows No Age: Solutions for Adult Acne
November 2, 2022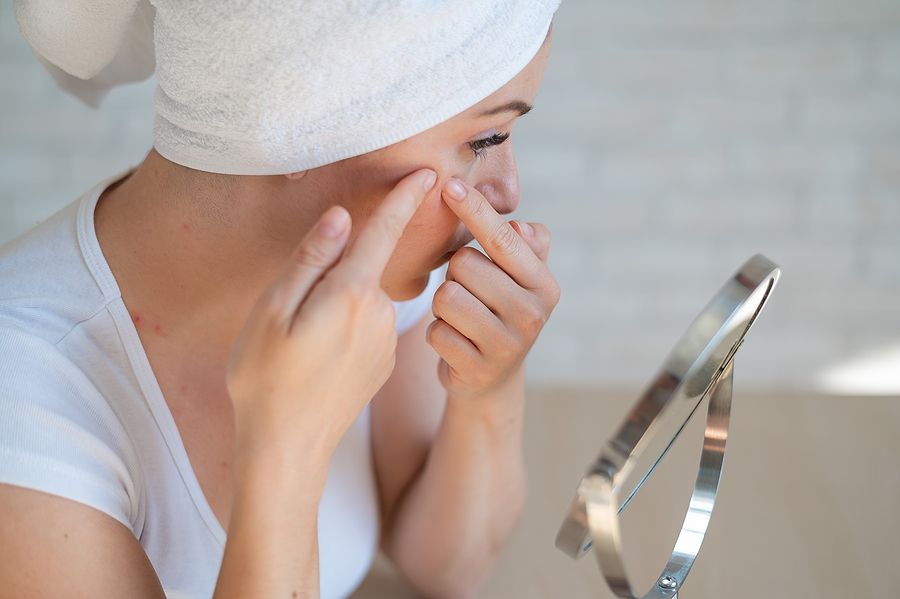 Acne is the most common skin condition in the United States, affecting up to 50 million Americans annually.
Acne can occur at any stage of life and may continue into one's 30s and 40s.
Acne occurring in adults is increasing, affecting up to 15 percent of women. (1)
We all know that many teenagers struggle with acne – it almost seems to be a right of passage. But what about when you're all grown up? It can be very frustrating to have acne when you are an adult, especially when you are often around many other people. You might shy away from social events. You may be extra self-conscious at work while trying to hide blemishes on your face. Fortunately, there are natural tools that can help you.
What drives acne in adults?
Think barrier function. When the barrier that lines the inside of your pores becomes disrupted, inflammation is triggered. This inflammation causes your sebaceous glands to react and produce abnormal oil and pores become larger. These glands are under the control of your hormones and environment.
Common Triggers of Acne:
yeast
emotional stress
environment
physical activity
skincare ingredients
inflammation
hormones
The different types of acne are:
Acne Grade 1
Open and closed comedones (small, flesh-colored, white or dark bumps that give skin a rough texture), pustules, and inflammatory papules
Less than 10 lesions on each half of the face
Acne Grade 2
Open and closed comedones, greater number of papules and pustules
Skin will appear bumpy
Acne Grade 3
Erythemic (redness of the skin), inflamed skin with open and closed comedones, inflammatory papules and pustules with scale
Acne Grade 4
Cystic acne, with multiple deep nodules, cysts and scarring with inflammation
Acne Dos and Don'ts:
DON'T skip out on protection, DO wear a recommended SPF daily.
DON'T over exfoliate, DO follow a professionally recommended exfoliation regimen.
DON'T skip out on moisturizing, DO nourish your skin with the proper moisturizer to promote healing. DRYING YOUR SKIN "OUT" CAN PROLONG YOUR ANCE/SCARRING.
DON'T spot treat to "dry out," DO spot treat with an anti-inflammatory.
DON'T pick, DO consult with your Aesthetician for proper treatment to avoid scarring, PIH (post-inflammatory hyperpigmentation), and PIE (post-inflammatory erythema).
DO change your pillowcase weekly.
DON'T treat your skin as it was in the past, DO treat your skin as it is now! The acne-focused skincare regimen used in the past may not be the best way to treat your skin as it is now.  With environmental and hormonal changes taking place as we age, we must focus on the factors and triggers that are current.
DON'T be discouraged, DO love the skin you're in! It is possible to clear your skin and manage acne, the journey is ours together!
Aesthetic Treatments for Acne:
BBL: Through the use of infrared light, the BBL™ PhotoFacial treatment was designed to rejuvenate older, damaged skin cells so that over time, you can experience a clearer, smoother, more youthful-looking complexion.
Hydrafacial: A Hydrafacial is a non invasive, deep cleansing facial with no downtime. Each Hydrafacial treatment is customized to fit the needs of your skin with steps including cleansing, exfoliation, painless extractions, specialty treatment and hydration infusion.
Skincare
Visia Complexion Analysis
At Hotze Health & Wellness Center, we evaluate your skin with Visia Complexion Analysis, a top-of-the-line facial imaging system that will give you a complete 3D visual of your skin. You can have a consultation with our aesthetics professional to learn what procedures would be appropriate for your skin.
Schedule Your Aesthetics Consultation Today!
Call 281-698-8770 to schedule your aesthetics consultation today. Visit HotzeBeauty.com to view all of our wonderful aesthetics treatments. It will be our privilege to serve you!
Research
1. Skin Conditions by the Numbers