3 Signs Your Skin is Stressed…and What You Can Do About It
July 14, 2021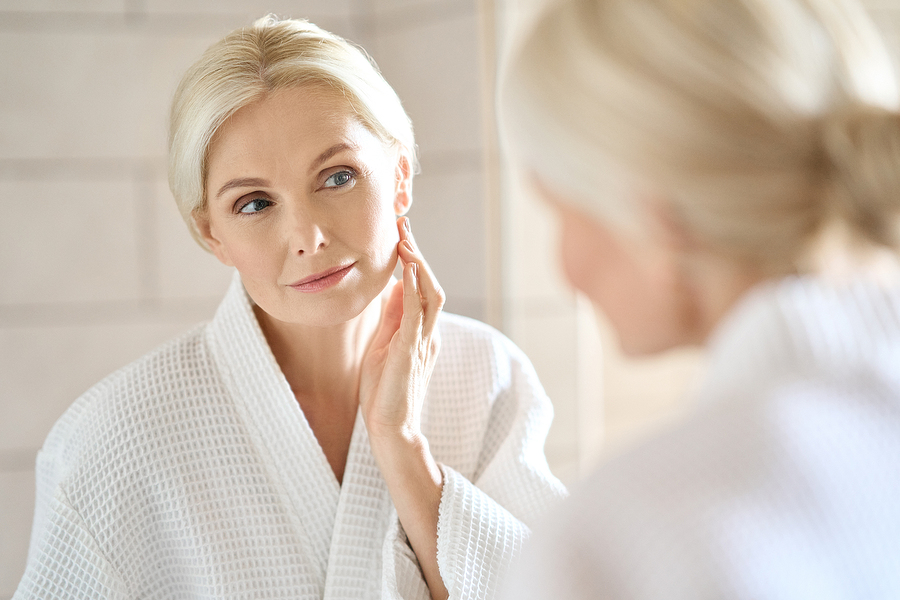 Stress management is a key part of living a healthy lifestyle. Unmanaged stress can contribute to serious health issues like high blood pressure, infertility, obesity, diabetes, mental health issues and much more. Whether you choose yoga, meditation, breathing techniques, exercise, candle-lit baths or counseling, it's important that you take regular inventory of your stress levels and actively choose to manage them.
Do you remember to check in and manage the stressed areas of your life? Are you paying attention to all areas of stress, even in your skin? Yes – your skin gets stressed, too! Just like every other organ in your body, and every area of your life, your skin is susceptible to the negative effects of stress.
3 Signs Your Skin is Stressed
Below are 3 common signs of stress to look out for in your skin and what to do about them.
1. Congestion – Is your skin feeling clogged, bumpy or irritated? Congestion is one of the most common indications that your skin may be stressed. Internal responses to stress, like an increase in cortisol levels, can cause sudden inflammatory responses that wreak havoc on your skin. Think sudden breakouts, irritation and even broken down collagen and elastin fibers. Manage your levels with stress reduction practices like breathing exercises, essential oils or meditation. Then show your skin some love with a detox mask or deep cleansing facial!
2. Dehydration – Is your skin dry, cracking or dull? When your skin becomes dehydrated, you can see it and you can most often feel it. Tightness, itching, and exaggerated lines are a few common indications that your skin might be lacking in the hydration department. To avoid dehydration, make sure that you're drinking plenty of water and incorporating hydrating ingredients into your daily and nightly routines. A few ingredients to incorporate are hyaluronic acid, aloe vera, and essential fatty acids like ceramides to reinforce your skin's natural moisture barrier.
3. Damage – Is your skin showing quickening signs of aging? Have you noticed accelerated discoloration, exaggerated wrinkles or thin, crepey texture? Signs of damage like these often come from environmental and lifestyle factors like UV exposure, pollutants, smoking, and drinking, and though they may take longest to appear, they have the most longstanding effects. Unfortunately, time machines are not yet a thing, so the best way to address years of damage is with medical aesthetic procedures.
The most important thing you can do to reduce the effect that stress has on our skin is to remain actively aware of stressed signs and address them as soon as possible. The good news is that we offer aesthetics treatments to help improve your skin. Take a look at some of these treatments.

Aesthetics Treatments Can Help Beautify Your Skin
These are some of the aesthetics treatments that we offer at the Hotze Health & Wellness Center:
VI Peel
VI Peel contains a synergistic blend of powerful ingredients suitable for all skin types. This peel will help to improve the tone, texture, and clarity of your skin and provide anti-aging benefits.
SkinPen® improves the appearance of wrinkles and scars by stimulating your skin's natural ability to produce new collagen and elastin for healthier, younger-looking skin.
BOTOX® Cosmetic is the first and only FDA-approved treatment to temporarily make moderate to severe forehead lines, crow's feet lines, and frown lines look better in adults.
Halo™ Hybrid Fractional Laser targets years of damage to your skin, including discoloration, sun damage, visible signs of aging, uneven skin tone, enlarged pores, poor texture, fine lines and even scars, without the downtime of more aggressive treatments.
Halo™ Lite treatments penetrate through the top layers of skin into the dermis to stimulate collagen production, causing the skin itself to heal over time and reverse damage.
Through the use of infrared light, the Forever Young BBL™ (BroadBand Light) PhotoFacial by Sciton treatment was designed to rejuvenate older, damaged skin cells so that over time, you can experience a clearer, smoother, more youthful-looking complexion.
Red Light and Blue Light Therapy (also known as phototherapy) is a non-invasive treatment that utilizes concentrated wavelengths of light to address both medical and cosmetic dermatological issues. Light therapy has the ability to address a variety of medical and cosmetic skin issues including acne​, actinic keratoses (AK's), rosacea, psoriasis, vitiligo, eczema, atopic dermatitis, scleroderma, hyperpigmentation, wrinkles and sun damage. Light therapy is safe and effective for use on all areas of the body. Commonly treated areas include the face, chest, back, legs, arms, and hands. It's great for teens with acne, as well.
Visia Complexion Analysis
At Hotze Health & Wellness Center, we evaluate your skin with Visia Complexion Analysis, a top-of-the-line facial imaging system that will give you a complete 3D visual of your skin. You can have a consultation with an aesthetics professional to learn what procedures would be appropriate for your damage and your skin.
Call 281-698-8770 to schedule your aesthetics consultation today. Visit HotzeBeauty.com to view all of our wonderful aesthetics treatments.
Related Content
Help in Overcoming Stress and Anxiety
6 Ways to Manage Stress and Anxiety